Roadside Station, Michi-no-Eki, Yunishigawa of Nikko
Welcome to our web site. Our "Michi-no-Eki Yunishigawa" (Roadside Station Yunishigawa) is located in the northern part of Tochigi prefecture, Japan. Our village "Yunishigawa" is in Nikko city. You can also visit here by train. Our roadside station is connected to the train station Yunishigawa-Onsen. From Asakusa station (Tokyo) of Tobu Nikko line, it takes about 3 hours with Limited Express Train SPACIA. By automobile from Tokyo, the Touhoku express way is highly recommended to visit our village. Utsunomiya Interchage (IC) is the nearest exit of the express way. And then please take the toll road "Nikko-Utsunomiya road" until Imaichi IC. From Imaichi IC take the National Route 121 toward the north. It takes about 1 hour from Imaichi IC and you can get to our Roadside Station Yunishigawa.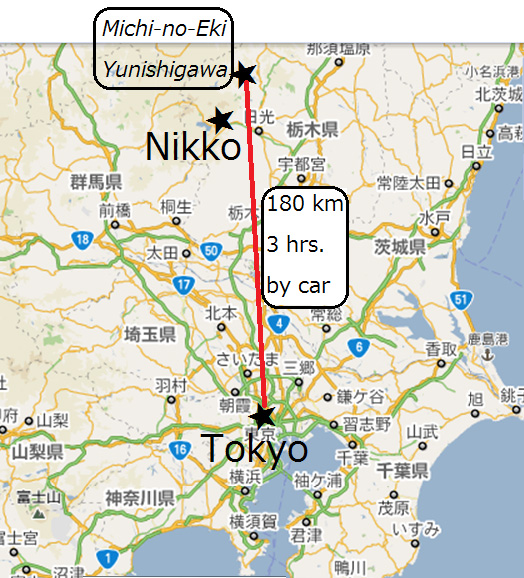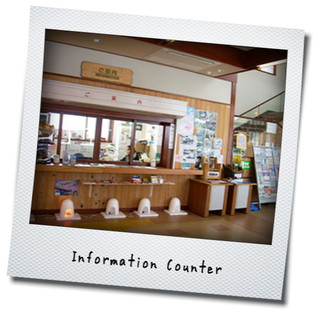 Information Counter (9am-5pm)
You can get touristic information in the counter.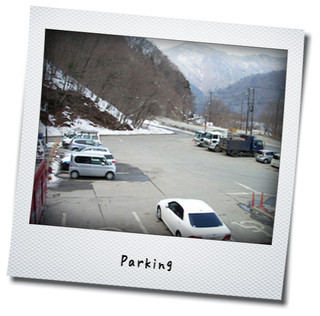 Parking (24 hours)
Free parking for 52 automobiles & for 3 large-size automobiles.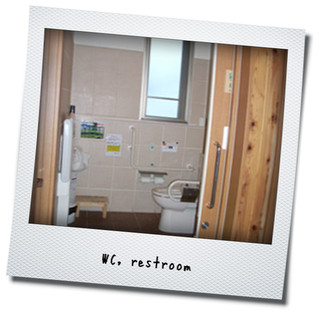 WC, restroom (24 hours)
You can use our clean restrooms freely anytime you want.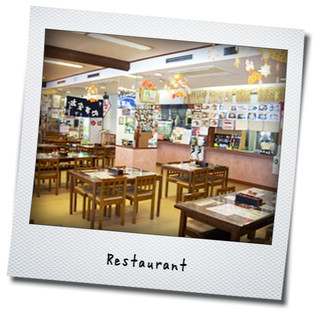 Restaurant (11am-3pm)
Our specialty is Soba noodle.
You can enjoy dairy, local & simple gastronomy in the restaurant.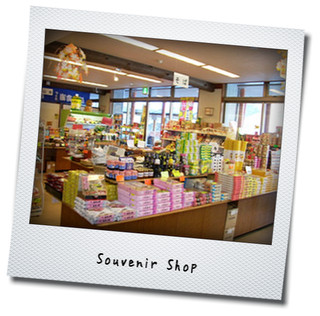 Souvenir Shop (9am-5pm)

You can buy some souvenirs of this region and also you can choose soft drinks, beers & icecreams.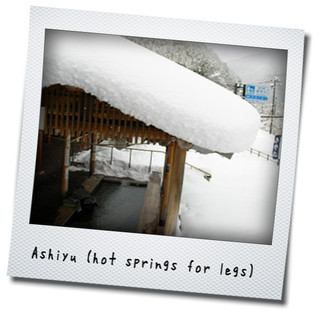 Public Bath Onsen (9am-8pm, close at 9pm)
You can take a brief shower at 2nd floor. (admission fee, 510 yen). Also you can spend hole day in our Onsen. Outside of our building, you can enjoy ashiyu (hot spring for legs) freely.
Ashiyu (hot springs for legs) in winter.
Leisure
And also some activities are avairable.
The amphibious vehicle is the most popular attraction in this area. In the amphibious vehicle tour you can also visit to the Kawaji-Dam (one of the biggest dam in Japan).
Fishing is very popular too in this area. Iwana (Japanese typical trout) is one of the main targets of leisure fishing.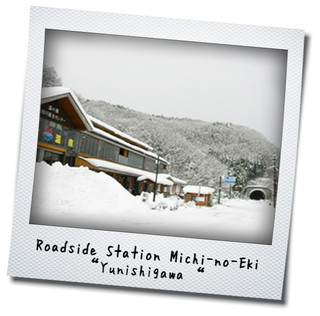 Let's enjoy "Amphibious Life" in Yunishigawa!
Our Roadside Station Michi-no-Eki "Yunishigawa " (in winter)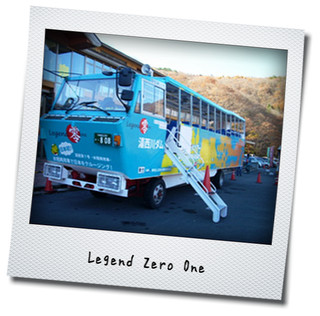 The Amphibious Vehicle "Legend Zero One"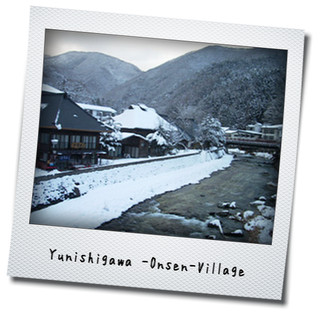 The Amphibious Quiet Village "Yunishigawa -Onsen-Village" with good quality hot springs.
Restaurant Menu
You can enjoy dairy normal menu of this region. We hope you'd like our local & simple cuisine.
Noodle with hot soup, (Please choose soba or udon) 温かいメニュー
Soba (buckwheat noodle, dark-colour noodle、そば)
Udon (wheat flour noodle, white noodle、うどん)
| | | |
| --- | --- | --- |
| Kake | (simple type, in flavored dashi broth、かけ) | ¥550 |
| Kitsune | (in flavored dashi broth with a piece of fried tofu、きつね) | ¥ 650 |
| Tanuki | (with bits of deep-fried tempura batter、たぬき) | ¥650 |
| Tsukimi | (with egg、月見) | ¥650 |
| Sansai | (with mountain vegetables、山菜) | ¥ 750 |
| Tempura | (with onion & carrot tempura、天ぷら) | ¥750 |
| Tororo | (with grated yam、とろろ) | ¥750 |
| Kenchin | (winter only, with vegetables, daikon, carrot, gobou, tofu、けんちん) | ¥1000 |
(L-size \200 more、大盛り200円UP)
Cold noodle with cold soup, (Please choose soba or udon) 冷たいメニュー
Soba (buckwheat noodle, dark-colour noodle、そば)
Udon (wheat flour noodle, white noodle、うどん)
| | | |
| --- | --- | --- |
| Zaru | (simple type、ざる) | ¥550 |
| Oroshi | (with grated daikon、おろし) | ¥650 |
| Hiyashi-Tanuki | (with bits of deep-fried tempura batter、冷やしたぬき) | ¥650 |
| Hiyashi-Tororo | (with grated yam、冷やしとろろ) | ¥750 |
| Daikon-salad | (summer only, with pieces of daikon radish、大根サラダ) | ¥650 |
| Ten-Zaru | (shrimp & vegetable tempura next to noodles、天ざる) | N.A. |
(L-size \200 more、大盛り200円UP)
Cold noodle with hot soup (Please choose soba or udon) 冷麺温汁
Soba (buckwheat noodle, dark-colour noodle、そば)
Udon (wheat flour noodle, white noodle、うどん)
| | | |
| --- | --- | --- |
| Yuba-iri-Kamo-Seiro | (with yuba and meat of wild duck) | ¥900 |
(L-size \200 more、大盛り200円UP)
Curry with rice (We have 2 kinds of dam-shape Curry-rice. They have a lot of vegetables.)
| | | |
| --- | --- | --- |
| Kawaji-dam Curry | (Normal-size, 普通サイズ 川治ダム・カレー) | ¥700 |
| Yunishigawa-dam Curry | (Large-size, 大盛り  湯西川ダム・カレー) | ¥900 |
| Momiji Curry | (Curry with deer meat, もみじカレー) | N.A. |
(L-size \200 more、大盛り200円UP)
Donburi (Rice-Bowl menu) & Teishoku-style
| | | |
| --- | --- | --- |
| Gyuu-don | (with beef slice 牛丼) | N.A. |
| Yubatama-don | (with Yuba & egg ゆば玉丼) | ¥800 |
| Chuuka-don | (with vegetable Chinese-style 中華丼) | ¥700 |
| Una-don | (with grilled eel うな丼) | N.A. |
| Shika Bibimba-don | (with deer meat slice鹿ビビンバ丼) | N.A. |
| Motsuni Teishoku | (stewed guts, rice, miso-soup, picklesもつ煮定食) | ¥750 |
Set Menu (Setto Menyuu セットメニュー)
| | | |
| --- | --- | --- |
| Yu-no-setto | (Oroshi Soba or Oroshi Udon & today's rice、湯のセット) | N.A. |
| Sato-no-setto | (Oroshi Soba or Oroshi Udon & mini-cuury-rice、郷のセット) | N.A. |
Today's special (Higawari-Teishoku 日替定食)
Monday  月
Hamburg teishoku  (ハンバーグ定食)
N.A.
(hamburg, rice, miso-soup, pickles, mini-salad with daikon radish)
Tuesday  火
Karaage teishoku  (唐揚げ定食)
N.A.
(fried chicken, rice, miso-soup, pickles, mini-salad with daikon radish)
Wednesday 水
Saba teishoku  (さば定食)
N.A.
(mackerel fish grilled with miso-sauce, rice, miso-soup, pickles, mini-salad with daikon radish)
Thursday  木
Buta shouga teishoku  (ぶた生姜定食)
N.A.
(grilled pork slice with soy-sauce, rice, miso-soup, pickles, mini-salad with daikon radish)
Friday   金
Maabou-don teishoku  (マーボー丼定食)
N.A.
(rice-bowl-style, tofu grilled with spicy sauce, miso-soup, pickles, mini-salad with daikon)
—Saturday, Sunday—  (no offer)
道の駅 湯西川
〒321-2603 日光市西川478-1
(野岩鉄道湯西川温泉駅となり)
TEL 0288-78-1222 FAX 0288-78-1221
※駐車場・トイレ・公衆電話は終日ご利用いただけます。
※公衆電話はバス停前の待合室内にございます。